Italian Imports
Italian Jnr Champion Cryout DucaatNugold (Imp Italy)
Duca
Duca has the gentlest, loving nature which he passed on to his babies! He is such a lovely natured boy, we were very lucky to have him in our home. Due to a change in our circumstances, and Duca's need for someone who was at home all the time, and could give him more than I could, he has gone to live with a wonderful family in Victoria, along with one of the puppies. We are very very grateful to the family who have taken Duca to their hearts.
Duca has the most lovable nature, enjoys playing with a ball. Absolutely a most loyal companion. There is no doubt he passes on that temperament to his progeny. He sired some of the most beautiful natured puppies many of whom have now been hip scored, with excellent low hip scores in single figures. I could not ask for a more loving companion.
Duca has not been shown much at all as I was just not able to devote enough time over the past few years due to work commitments. Duca came to us from the Cryout Kennels in Italy, and handled to his title by Thomas.
So his work has been done for the breed in Australia, with several of his progeny producing some stunning future generations. We could not have achieved what we have without him! Love you Ducs!!
Duca now lives with a wonderful family Melbourne, as a family pet, along with a puppy to keep him company. Thank you so much for giving our Duca a loving home, it is truly appreciated.
Cryout Semola (SAM) (Imp Italy)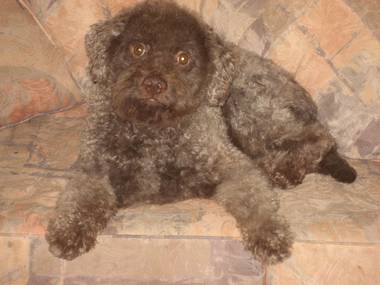 Sam is such a lovely boy. Smaller in stature than Duca, standing at 18" but big on personality and temperament! Sam has sired three absolutely stunning litters of puppies and we could not be more delighted with what he is giving to the future of Lagotti in Australia - Sam has settled into his new life in Perth and has the most loving home and companions (human and lagotti niece!)
We cannot thank you both enough for taking care of Sam, taking him into your home and loving him the way you have done. Thank you.